MY GRANDPARENTS - I - MY GREAT-GRANDPARENTS - I - MY GREAT-GREAT-GRANDPARENTS - I - MY GREAT-GREAT-GREAT-GRANDPARENTS
KNOTT - I - BOWLES - I - WATERS - I - HARRALL - I - PAGE - I - WISEMAN - I - CROSS - I - CARTER
CORNWELL - I - HUCKLE - I - MORTLOCK - I - MANSFIELD - I - REYNOLDS - I - CARTER - I - ANABLE - I - STEARN
CHRONOLOGY - I - DRAMATIS PERSONAE - I - WHERE PEOPLE CAME FROM - I - CALENDAR
MAP OF ELY - I - MAP OF MEDWAY
MAP OF CAMBRIDGE AND DISTRICT
WORLD WAR I - I - WORLD WAR II
simonknott.co.uk I home I e-mail
The Waters family: coming home to the Medway

My Father's Father's Mother's Father's family
The narrative can be read in conjunction with the Knott family tree. You can see places significant to the Waters family on the site map of the Medway
This family story includes material from, and links with, the stories of the Knott, Bowles, and Harrall families. My direct ancestors are highlighted in bold the first time they appear in the narrative.


Waters is a particularly common surname in north Kent, and the Waters family are found throughout the 17th and 18th centuries in the parish registers of the adjacent parishes of Newington and Low Halstow in Kent, although there is no indication that all the various strands of the name, landowners and farmworkers, are actually related. My Waters ancestors are certainly from one of the poorer branches. My great-great-great-grandfather Thomas Waters was baptised at St Mary's church, Newington on the 19th February 1804. His parents were John Waters and Elizabeth Waters. It is possible that Thomas was no longer a baby when he was christened, because in successive censuses he would give a birth date which would suggest he was born in 1800 or 1801. His father John was recorded as a labourer. Thomas married Mary Vokes of the neighbouring parish of Borden, probably in about 1830 as she was ten years younger than him, although I have not yet found the marriage. They moved back to Newington and then to Low Halstow, for it was in the parish church there on the 4th February 1849 that their youngest son was baptised, my great-great-grandfather George Herbert Waters. He had probably been born in the preceding month. Thomas and Mary already had a number of children, and Thomas Waters would have been approaching fifty years old by the time of the birth of his youngest son. He was recorded in the parish registers, and in the census of two years later, as an agricultural labourer. These are the children of Thomas and Mary Waters:
Mary Waters
Born Kent, possibly Borden, in 1829. No baptism appears in the Newington registers. Mary appears on the 1841 census at home at the age of 12, but is not immediately obvious on the 1851 census - she may already have married or died, although no marriage or burial appears in the registers for Newington or Lower Halstow.

Sarah Vokes Waters
Born Newington, Kent, 1832. Baptised at St Mary's church, Newington on 3rd June. At home in Newington in 1841, she was a lodger in the Pellett household in Key Street, Bobbing, Kent at the time of the 1851 census. later the same year, she married James Adams on 3rd November at St Bartholomew's church, Bobbing. They lived at Low Halstow. Between 1851 and 1871 they had at least eleven children, several of whom died in infancy. Sarah died in Low Halstow on 11 July 1891 at the age of 59. James died in Rainham on 18 August 1912, when he was 82 years old.

William Waters
Born Newington, Kent in 1834/5, and baptised at St Mary's church, Newington on 25th January 1835. He seems to have died soon afterwards, although there is no record of a burial in the Newington registers, or after civil registration began in July 1837.

Thomas Waters
Born Newington, Kent in 1836, and baptised at St Mary's church, Newington on 17 July 1836. At home in Newington in 1841 and Low Halstow in 1851 for the censuses, he married Jane Copping at Bobbing, Kent on 3rd June 1860. They were living in Low Halstow by the census of the following year, and had two children, Emma and Mary Jane. They had moved to neighbouring Upchurch by the time of the 1871 census, and seem to have spent the rest of their lives there, being still there for the 1901 census.

Frances Ann Waters
Born Newington, Kent some time in 1837-9, and baptised at St Mary's church, Newington on 24th February 1839. At home in Newington in 1841 and Low Halstow in 1851 for the censuses, when her age was given as 3 and 10 respectively, she married Amos Ingram in the Milton registration district in the 4th quarter of 1855. If her age on the 1851 census was correct this would mean she was just 15 years old, which clearly cannot be right. If she was born a few months before her baptism she would be just 17 years old, but no BMD record seems to exist for her birth, in which case she may well have been born before civil registration began in July 1837. In 1861 they were living in Borden, but later moved to Newington and then Chatham. Frances and Amos had at least eight children. Frances died in Chatham in the first quarter of 1918, when her age was given as 79.

George Herbert Waters
Born Low Halstow, Kent 1848/9, and baptised at St Margaret's church, Low Halstow on 4th February 1849. My great-great-grandfather. See below.

My great-great-grandfather George lived in Lower Halstow and Newington throughout his childhood, and by the time of the 1871 census when he was 22 years old his parents were both quite elderly. A few months after the census, on 15th October 1871, he married Mary Ann Harrall at Newington parish church. The Harrall family were from Higham, some ten miles away on the other side of the Medway Towns.
When Mary Ann Harrall married George Waters, both their fathers' were recorded as being labourers, but at the age of 22 George could describe himself as an engineer, a cut above the ordinary working classes in the mid-Victorian period. Engineers were in great demand during the height of the Industrial Revolution, and it is perhaps no surprise that a year after their marriage we find George and Mary Ann living hundreds of miles away from Kent in the slate mines of north-west Wales, at Llanferres in Denbighshire, where George worked as a stationary engine driver, probably in a quarry. They lived in a house called Tyn y Cornel, and it was there on the 11th August 1872 that their eldest daughter, my great-grandmother Mary Ann Waters was born. A second daughter, Beatrice, would follow soon after, and these would be the only two children that George and Mary Ann would have. A small family is often a mark of prosperity in later Victorian times. Interestingly, George and Mary Ann always gave 'North Wales' as the birthplace of their daughters on census returns, but in 1901 and 1911 Mary Ann stated her place of birth as the next door county of Flintshire, not Denbighshire, and in 1911 Beatrice gave her birth place as the mysterious-sounding 'Granamina'. However, about a mile from Llanferres, across the border in Flintshire, lies the large village of Gwernyminydd. To English ears this must sound very like Granamina. The two most likely possibilities are that their father George was working in Gwernyminydd, and Beatrice was remembering his workplace, or that the family actually moved to Gwernyminydd after the birth of both girls and they lived there for a few years, although they had left Wales by the time of the 1881 census. George and Mary Ann's children were:

Mary Ann Waters
Born Llanferres, Denbighshire, Wales, 11th August 1872. My great-grandmother. See below.

Beatrice Louisa Waters
Born Llanferres, Denbighshire, Wales in 1873. Beatrice married John Cox, a labourer, at St Nicholas's church, Strood on 28th September 1895. My great-grandfather William Knott, Beatrice's brother-in-law, was one of the witnesses. Beatrice's daughter Ivy Myrtle was born a little over a year later; she was baptised at St Nicholas's church Strood on 21st March 1897, when the family were living at 20 Temple Street. In 1901 they were still living in Rochester at Gas Lane, near to Beatrice's sister Mary Ann's family. However, Beatrice's husband John died in the third quarter of 1902, and by 1911 she is living as the wife of Charles Smith, an agricultural labourer, at Loose near Maidstone. Ivy was with them. Charles and Beatrice declare on the form that they have been married for nine years, but I have not found a trace of any such marriage. There were no further children up to 1911, by which time Beatrice was 37 years old. It is difficult to trace Beatrice and Charles's life after this. Her daughter Ivy married Frederick Perrin in Maidstone in 1917, and they had three children, Frederick, Leslie and Ivy. They were living in Havering, north London at the time of her husband's death in 1971. Ivy herself died at Kings Lynn, Norfolk in 1982.


Mary Ann Water's birth was registered with the four-letter form of the second name, Mary Anne, just as had been the case with her mother. Perhaps this was a mistake on the part of the registrar, or perhaps a sign of my great-great-grandparents aspirations. However, in the register when she married and on the self-referred 1911 census, Mary Anne would call herself Mary Ann; again, like her mother. The family moved back to Kent soon after Beatrice's birth, and were there for the 1881 census. The elder Mary Ann's mother Mary Harrall née Marten died in Higham in 1880 at the age of 55, and in 1881 the family were living in Faversham. George's father Thomas Waters died in Newington at the age of 86 in 1887. In the same year, Mary Ann's father John Harrall died in Higham, at the age of 70. John was buried beside his wife in Higham churchyard on the 17th November.
By 1891 the Waters family were living in the new upmarket houses of Bryants Terrace in Strood, a short walk from the home of the Knott family in Grange Road. On 3rd December 1892, Mary Ann married William Knott at St Mary's church, Strood, Kent, which was about halfway between their homes. Mary Ann was 20, and it was William's 23rd birthday. William's occupation was given as a factory labourer, and his father George's occupation was a labourer. Mary Ann's father George gave his occupation as an engine driver. Both signed the register, Mary Ann spelling her name without the final e. Mary Ann's witness was her sister, Beatrice Louisa. It is possible that the Knott and Waters families already knew each other before meeting in Strood. Twenty-one years earlier, at the time of the 1871 census, when the Waters family were living in Low Halstow, the Knott family were living in the next village of Upchurch, and they moved to Low Halstow shortly afterwards.
After the marriage, Mary Ann and her new husband moved into a house in Cuxton Road on the other side of Strood High Street, where their eldest daughter was born nine months later. William worked as a labourer in a cement factory. Another daughter was born in Cuxton Road, and then the family moved right into the centre of Strood on London Road. They were there for the birth of a daughter and for the 1901 census, before moving back to Cuxton Road. These are the children of William and Mary Ann:

Daisy Mary Knott
Born 1893 in Strood. Daisy was baptised at St Nicholas, Strood on September 13th. The registers show that the family were living at Cuxton Road, Strood, Kent. In 1901 she was staying with her grandparents George and Mary Ann Waters in Hitchin, Hertfordshire. In 1911 she was with them at the One Bell, the pub they kept at Wilmington near Dartford. On 3rd April 1912 she was married at St Michael's church, Wilmington. She gave her address as the One Bell public house, and so did her new husband Charles James Marchant, who gave his occupation as an instructor in physical culture. Her father William and her sister Gladys were witnesses. Interestingly, Daisy gave her age as 21. In fact, she was just 18. Her grandfather had died in 1911. It seems probable that she said she was 21 to enable them to be married under licence, but is it possible that she gave a false age to enable her to take on the running of the One Bell with Charles Marchant now that her grandfather was dead and her grandmother was infirm? Daisy was probably the Daisy Mary Merchant who died at Ashford in Kent in 1962. If so, her age was given as 61, but really she was a few months short of her 70th birthday.

Gladys Violet Knott
Born 1895 in Strood, Kent. Gladys was baptised at St Nicholas, Strood on December 29th. The registers show that the family were living at Tobin Villas, Cuxton Road, Strood, Kent. This is probably the name of a terrace and may well be the address they were living at in 1893. Gladys was the big sister that Joe grew up with. She was 13 years older than him. She was married at St Nicholas, Strood on 8th February 1919. She gave her address as 96 Temple Street, and so did her new husband Frederick Allen. Interestingly, her father William gave his occupation as stevedore, meaning a docker. Apart from the occasion of my grandparents' marriage in the 1930s, this is the only time I have found it recorded as anything other than a cement or brickfield worker. Gladys and Frederick probably lived in Strood, and are likely to be the household recorded under the name Frederick Allen at 11 Pearson Street, Strood, in the 1925 Kelly's Directory of Rochester, Chatham, Gillingham, etc. My father and uncle remember Gladys and her family visiting Joe and his family in Ely on at least two occasions in the 1940s. Gladys died in Chatham, Kent in 1980 at the age of 85.

Pansy Miriam Knott
Born 1897 in Strood, Kent. Pansy was baptised at St Nicholas, Strood on August 22. The registers show that the family were living at 12, Strood Hill. This is the same house as the family would be living at in 1901, 12 London Road. It sits at the bottom of Strood Hill a few doors from the famous Crispin and Crispianus Inn, at the start of Strood High Street, and is now a hairdresser's. Pansy died in the second quarter of 1898.

William George Knott
Born 1902 in Strood, Kent. William was baptised at St Nicholas, Strood, on 16th November. The registers show that the family were living at 11 St John's Terrace, Cuxton Road, Strood, Kent. St John's Terrace runs just to the north of Strood cemetery. William's name is too common in Kent to find his marriage without more information, but he is probably the William George Knott who died in Maidstone, Kent in 1988 at the age of 85.

Vincent Helgia 'Joe' Knott
born on the 15th of February at 34 West Hill, Dartford in Kent. My grandfather. See below.

Iris Alberta Knott
Born on Christmas Eve 1910 at 16 Providence Street, Greenhithe in Kent. She married George Gower in Strood in 1931, and lived to the fine old age of 91, dying in Rochester in 2002.


At some point in the 1890s, George's mother Mary Waters née Vokes died, probably in Newington. Her grand-daughter Mary Ann Knott did not leave Kent again, but Mary Ann's parents George and Mary Ann did. At the time of the 1901 census, they were running the Horse & Jockey public house at Hitchin in Hertfordshire. George's occupation was given as a steamroller driver, but he appears again in the 1902 Kelly's Directory for Hertfordshire as a beer house keeper at the same address. Living with them was their grand-daughter, the 7 year old Daisy Mary Knott. George and Mary Ann Waters and their grand-daughter were back in Kent in 1911, and running the One Bell public house in Wilmington, just outside of Dartford.
This is interesting, because in the early years of the 20th Century, their daughter Mary Ann and her husband William Knott took their family some fifteen miles west from Strood to Dartford, for William to work in the vast cement works there. While they were there, their youngest son was born, Vincent Helgia Knott, my grandfather. He was born on the 15th of February at 34 West Hill, Dartford in Kent. The house still exists, on the main road into the centre of Dartford from London. Vincent Helgia was baptised at Holy Trinity, Dartford on 22nd April 1908. As a very young child, he would be put on the bar of the One Bell, the beerhouse then run by his mother's parents, and asked to sing. As a result, he acquired the nickname 'Joe' among the customers. He was called Joe by everyone who knew him for the rest of his life.
By the time of the 1911 census Mary Ann and her family had moved to Providence Street in Greenhithe on the outskirts of Dartford, on the edge of the cement works where William Knott worked. This is now the site of the Bluewater shopping centre. However, a few weeks after the census, Mary Ann's father George Waters died. He was buried in Wilmington churchyard. There is no headstone, and neither was there any at the time of the Duncan survey of memorial inscriptions in 1921, but the 1911 burials are collected together just to the north-west of the church, under an old redwood tree.
Before the start of the First World War, the Knott family were back in the Strood district of Rochester, living at 96 Temple Street, not far from William's parents in Grange Road. George Water's widow Mary Ann Waters was with them, because she died at the Temple Street house on 27th November 1914. Her daughter notified the death. Mary Ann was buried in plot A237 of Strood Cemetery, to the south of the cemetery chapel and end on to the Knott family plot.
Mary Ann Knott and her husband William would remain in Rochester for the rest of their lives. Joe 's family lived at 96 Temple Street throughout his childhood. William Knott's parents George and Mary Ann Knott were close at hand, and, while George was still working as a labourer, they opened a small sweetshop and general store in their Grange Road terraced house. The shop was in business at the time of both the 1901 and 1911 censuses, and is mentioned in street directories throughout the period.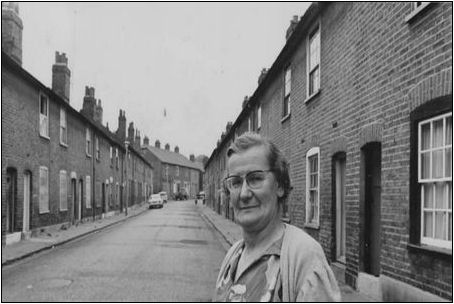 Joe may have worked as a labourer in a cement works after he left school, but in about 1931 he left Rochester looking for work. The family continued to live in Temple Street, but it was badly bombed during the Second World War and finally demolished in the 1960s. The photograph above was taken just before the final demolition of the street - the houses on the left hand side are already boarded up. The identity of the woman is unknown. The location is now the site of Strood Tesco. In February 2011, while wandering around this area, I met an old couple who had both been children on Temple Street at the time Joe was growing up there. They were able to point out exactly where 96 Temple Street had been (now within the Tesco car park) and they gave me a vivid picture of life in the street at that time. They had not known the Knotts by name, but it felt like a remarkable touchstone.
Joe would not go back to live in the Medway Towns. In the early 1930s he worked on road-building projects in Yorkshire where he met Arthur Page, the brother of his future wife Phyllis. Arthur was another migrant worker, and Joe came back with him to East Anglia, where he met my grandmother. Joe went to work for British Sugar at Cantley in east Norfolk, but he married Phyllis Page at Ely Register Office on 15th August 1932, when he was 24 and she was just 19. Joe's address was 9 Council Cottages Cantley. Interestingly, he gave the occupation of his father as Greengrocer. The witnesses were Phyllis's brother Percy and her sister Violet.
They went to live at Council Cottages, Cantley, and then in 1933 they moved to Ipswich, firstly living in lodgings in Tacket Street in the town centre, and then in a rented house in Cavendish Street, the same street that I would live in almost exactly half a century later. Joe worked for Fisons on Cliff Road, who were constructing a new factory. They moved to 20 Fletcher Road on the new Gainsborough Estate in Ipswich, where their first child and only daughter was born. The factory was completed the following year, and they returned to Ely in 1935, where they would remain.
Joe and Phyllis lived at 25 Willow Walk off of Waterside, where my father and his three brothers were born - Joe and Phyl had five children in all. The house is now demolished. Joe Knott rarely spoke about his family in Kent, and his children were told almost nothing about them, although they did on occasion in the 1940s receive visits from his sister Gladys and his brother William. Joe was 31 when the Second World War broke out. He spent the War as a motorcycle dispatch rider, mostly in Italy. After he returned to Ely, the family moved to a new council house at 37 Chief's Street in 1947. They lived there for the rest of their lives. In the 1940s and 1950s Joe bred racing pigeons and canaries.
Joe's parents, my great-grandparents, both died in the early 1950s. William Knott died on 27th July 1951 of exhaustion and internal haemorrhage. Mary Ann Knott died on 15th April 1952 of heart failure and senile decay. They both died at 143 Maidstone Road, Rochester, the home of their daughter Gladys Violet Allen, who notified both deaths. William and Mary Ann were buried in the same grave plot as William's parents, plot A192 in Strood Cemetery.
Joe worked for British Sugar until he retired in the early 1970s. For a while, Joe and Phyllis owned a caravan in Heacham, and enjoyed holidays on the Norfolk coast. He had a great pride in his garden at Chief's Street, spending hours tending his fruit and vegetables until he was well into his eighties. I would regularly visit them at Chief's Street in the late 1970s and 1980s, and Joe was aways keen to show me around his garden. I am pleased that I have a photograph, taken in 1987, of him doing this. I particularly remember his gooseberry bushes - he would take great delight in watching his grandchildren trying to eat the sour fruit! Joe's children were near at hand, one son living a few streets away and all the others within 15 miles or so. His wife Phyllis's brother and sister also lived nearby. Joe is still remembered for his fondness for the horses, and his friendships with prominent sportsmen. He never went back to Kent. He outlived my other grandparents, lived to hold my son as a baby, and died in Ely in the Princess of Wales Hospital in 1996 at the age of 87.
| | | |
| --- | --- | --- |
| | AT A GLANCE: DETAILS FROM REGISTERS AND CENSUS DATA | |
My great-great-grandparents George and Mary Ann Waters and their family


Birthplace
1881 census
1891 census
1901 census
1911 census
married to
(date registered)
age
address
age
address
age
address
age
address
date of marriage

George



Halstow, Kent (1849)



32



Upper Brents, Preston, Kent



41



Bryants Terrace, Strood, Kent



49



Old Park Road, Hitchin, Herts



61



One Bell, Common Lane, Dartford, Kent



George married Mary Ann Harrall at St Mary's church, Newington on 15th October 1871



Mary Ann
(Harrall)


Higham, Kent (1850)



32



Upper Brents, Preston, Kent



39



Bryants Terrace, Strood, Kent



50



Old Park Road, Hitchin, Herts



60



One Bell, Common Lane, Dartford, Kent



Mary Ann married George Waters at St Mary's church, Newington on 15th October 1871




Mary Anne (Mary)




Llanferres, Denbighshire (1872)




7




8




28



London Road, Strood, Kent



38



Provident Street, Stone, Kent



Mary Ann married William Knott at St Mary's church, Strood, Kent on the 3rd December 1892.




Beatrice Louisa




Llanferres, Denbighshire (1873)




5




7



Bryants Terrace, Strood, Kent



27



Gas Lane, Strood, Kent



37



Lancet House, Loose, Kent



Beatrice married John Charles Cox in the 3rd quarter of 1895, and may have married Charles Smith in 1902 or 1903