1815: Abraham is born in Needingworth, Huntingdonshire, the son of Joseph and Mary Mansfield, and baptised in Holywell church on the 11th June.


1831: Abraham was a witness to the marriage of John Mansfield (presumably his brother) to Mary Circus at Holywell church on 5th December.


1832: Abraham was a witness to the marriage of James Mansfield (presumably another brother) to Ann See at Holywell church on 30th October.


1833: Abraham married Kezia Clarke at St John the Baptist, Holywell, Huntingdonshire on 18th December. The witnesses were Robert Hepher and Elizabeth Colson.


1835: Abraham's son Samuel was born in Holywell-cum-Needingworth.


1837: Abraham's son Abram was born in Holywell-cum-Needingworth.


1839: On the 24th November, Abraham's eldest daughter Eliza, my great-great-grandmother, was born in Holywell-cum-Needingworth.


1839: On the 29th July, Abraham Mansfield was charged at St Ives petty sessions with an assault on John Harradine of Needingworth. he was fined 6d with 6s costs, in default to be committed, which is to say that he was gaoled given his inability to pay.
1841 Census:

Abraham was 25 years old at the time of the 1841 census. His name was recorded as Abram. The Mansfields are living at Fen Lane, Needingworth, Huntingdonshire.

Abraham is shown as an agricultural labourer. His wife Kesiah is also 25.

There were three children in the household, Joseph 6, Abram 4 and Eliza, 1.

All the household are shown as being born in Huntingdonshire. The transcript for their entry is here..



1841: On the 28th June, Abraham appeared before Huntingdon Assizes on a charge of larceny. He was recorded as being 26 years old, and imperfectly educated. He was sentenced to seven years transportation.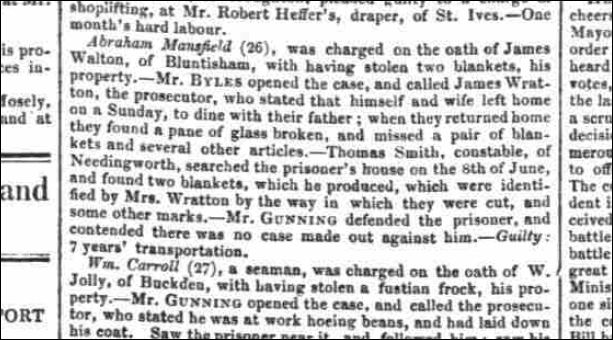 The Cambridge Independent Press of Saturday 3rd July 1841 reported that Abraham Mansfield (26) was charged on the oath of James Walton (sic), of Bluntisham, with having stolen two blankets, his property. Mr Byles opened the case, and called James Wratton, the prosecutor, who stated that himself and wife left home on Sunday, to dine with their father; when they returned home they found a pane of glass broken, and missed a pair of blankets and several other articles. Thomas Smith, constable, of Needingworth, searched the prisoner's house on the 8th of June, and found two blankets, which he produced, which were identified by Mrs Wratton by the way in which they were cut, and some other marks. Mr Gunning defended the prisoner, and contended there was no case made out against him. Guilty: 7 years transportation.
On the 25th August, Abraham was received into the custody of HMS Warrior, a prison ship moored in the Thames Estuary, as recorded in the Prison Hulk Registers. He was prisoner 1206, and the registers record that he was 'received from the gaol at Worcester'. He was 26 years old, and his offence is noted as 'stealing from a dwelling house'. The register notes that he has a wife and three children, could neither read nor write, and was a labourer. In the gaoler's notes, it is recorded that Abraham had been 'convicted and imprisoned five times for various offences, & character considered bad'.

The Cambridge Independent Press of Saturday 28th August 1841 reported the Removal of a Convict - on Tuesday the 24th inst, Abraham Mansfield, convicted at the last Quarter Sessions of stealing in a dewelling house at Bluntisham, was removed on board the Warrior hulk at Woolwich, to be transported for seven years. The prisoner is a fine, stout, good-looking young man, and has not the least appearance of being a bad character; he has been convicted no less than six times of various offences.
1842: The final column in the Prison Hulk Registers, 'how disposed of', records that Abraham was transported to Van Diemen's Land (the modern Tasmania) aboard HMS Triton on 26 July 1842. Tasmanian State Archives record that the ship arrived in Van Diemen's Land on 19th December 1842, at the height of the Australian summer. His registration on arrival gives a remarkably detailed picture of him. He was a protestant, and 'can read'. He was five feet eight and a quarter inches tall, and had dark brown hair. His complexion was described as dark. His trade was given as a ploughman. The record gives a more optimistic opinion of his character, noting that his behaviour on the hulks had been 'good' and that his conduct on the journey had been 'good'. The entry records the specifics of his offence, that he had stolen blankets from one James Rattan, and that he had broken windows, that he had 'left my work', and had also been found guilty of drunkenness and robbing a garden. The indentures also record his wife's name as Keziah and the names of his parents Joseph and Mary, and his siblings as James, John, Isaac, William, Mary, Susan and Rebecca. The registers record Abraham's movements and activities through 1843 and 1844, including punishments for minor offences including 'being out after hours'.
1844: On the 7th January, the Launceston Examiner published in Launceston, Tasmania, recorded that Abraham Mansfield was one of those granted the status of third-class probabation holder. This meant that he could be employed by private citizens.
1846: On the 27th October, Abraham received a Ticket of Leave. This effectively gave him complete freedom from his sentence, except that he was not allowed to leave Tasmania, and he could be rearrested and forced to serve the rest of his sentence if he committed a further offence.
1848: On the 28th June, Abraham Mansfield's original sentence of seven years transportation was completed. On the 16th September, the Cornwall Chronicle, published in Launceston, Tasmania, recorded that Abraham Mansfield, who had arrived on the Triton, was one of those who had been granted their Certificate of Freedom.