1902: On April 8th, Robert signed up to the 4th Battalion of the Suffolk Regiment. He was 18 years old. His attestation papers record that he was five feet four inches tall, his eyes were blue and his hair was brown. He claimed to be a member of the Church of England, although on 6th September 1906 his record was amended because he had become a Wesleyan Methodist.

1905: Robert extended his service, joining the 2nd Battalion of the Suffolk Regiment, and becoming a Corporal.

1908: On July 22nd, Robert married Frances Louisa Baker at Norton, Suffolk. However, a few weeks before this he had been accused of fathering the child of Harriet Rose, probably the girl shown at the age of 17 at Lawshall on the 1901 census. When interviewed, Robert denied making any agreements, and also denied being the father of the child.

1909: By February, Robert had relented, and agreed to start paying from next pay day, at the rate of seven shillings a week. However, in July the Relieving Officer of the Sudbury Union workhouse wrote to Robert's superior officers demanding that Robert make maintenance payments for the child, including any arrears, reminding them that Robert had admitted paternity and even signed an agreement to pay.

1910: Robert was discharged from the army in 1910 after eight years service. He was living with his wife Frances in Annesdale, Ely, for the birth of their son Edwin Robert on 27th August. Edwin was baptised in Holy Trinity parish at St Peter's church on 21st September.


1911 Census:

Robert was twenty-six at the time of the 1911 census. The Page family were living at The Street, Norton, Suffolk, where they had been married two years previously.

Robert was employed as a swine herdsman. His wife Frances was 23, their son Edwin 7 months old. Robert and Edwin had been born in Ely, Frances in Fornham All Saints, Suffolk. Edwin is too young to be Robert's child with Harriet Rose, but intriguingly Robert and Frances declared on the census form that they'd had another child who died. Meanwhile, at the same census, Harriet Rose was working as a cook on a farm at Rougham, near Bury St Edmunds. There was no child with her.

1914: On the outbreak of war, Robert re-enlisted with the Suffolk Reserve, and was shortly after transferred to the Northamptonshire Regiment.

1916: Robert was lightly wounded.

1917: Robert was invalided out, his discharge papers noting that he was fit to work.

1919: After the War ended, Robert joined the Labour Corps.

1920: In March, Robert was finally discharged as surplus to military requirements. He returned to Long Melford in Suffolk to live with his wife and children Edwin, Arthur, Herbert and Frank. In about 1920, a photograph was taken outside of Melford Hall of all the local men who had fought in the War and survived it, and it is likely that Robert is in this photograph.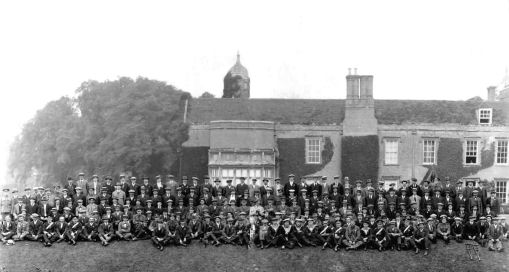 1935: Robert died in Sudbury, Suffolk. he was 51 years old.